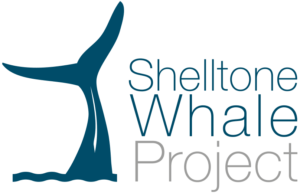 FEBRUARY 1, 2020 : WORLD ANIMAL INTELLIGENCE DAY
CITÉ DES SCIENCES ET DE L'INDUSTRIE, PARIS AT 6PM
THE SONGS OF THE WHALES, CONFERENCE AND CONCERT BY PIERRE LAVAGNE DE CASTELLAN
Research Director of the Shelltone Whale Project, Pierre Lavagne de Castellan spoke about whale songs: why do they sing, what are the hypotheses, is it possible for humans to communicate with whales, what is the status of current research? In the second part, he played Shelltonethe instrument he developed with the Ecole Centrale de Nantes and Stanford University in California to communicate with humpback whales. He plays accompanied by whale songs that he himself recorded during his research in inter-species communication. This unique creation will reproduce the exchange that exists today between humans and cetaceans through music.
Co-organised with the support of the Cité des Sciences et de l'industrie.
Here is the very interesting video of his intervention in full version (59 min)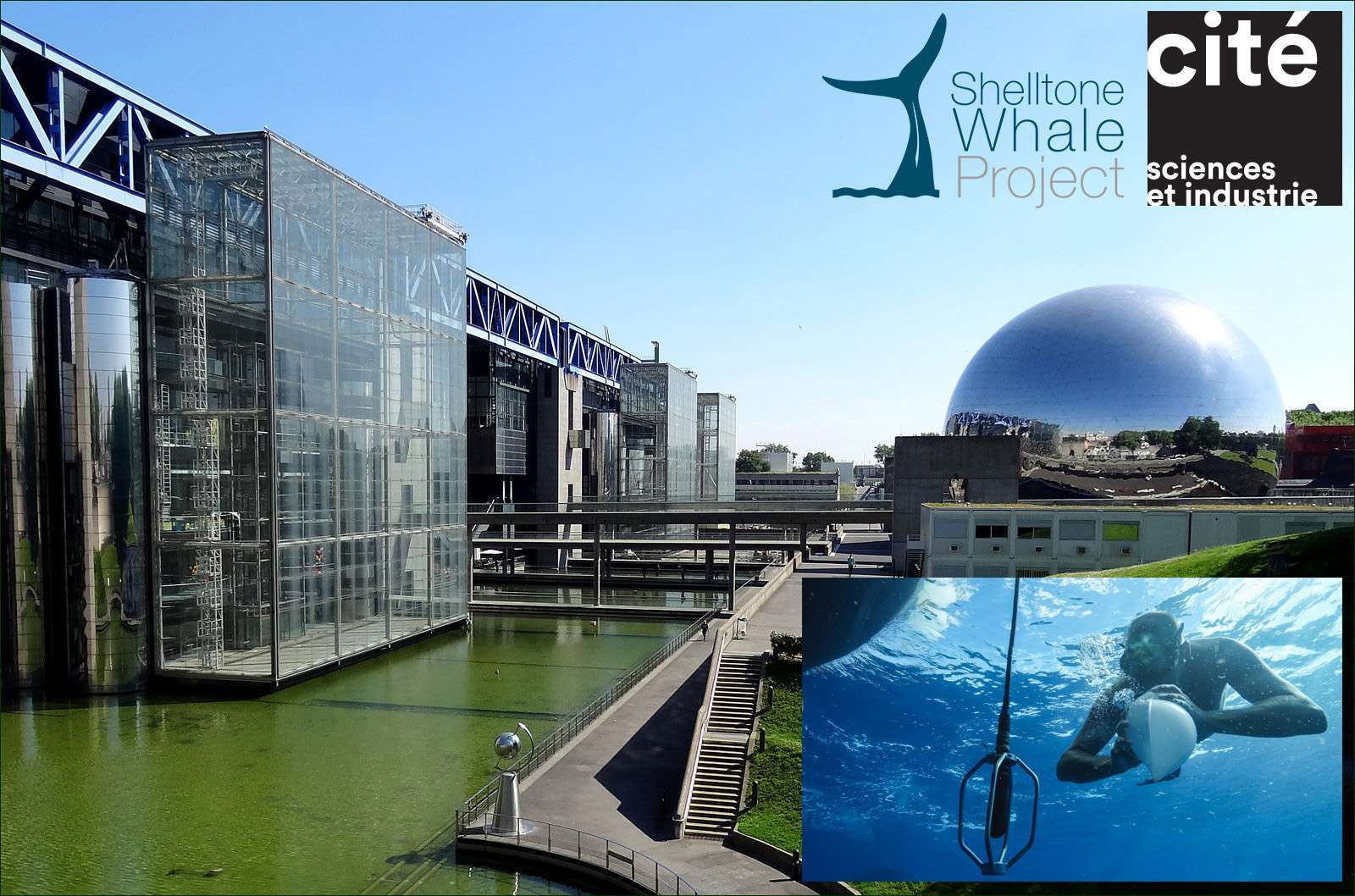 GEOREFERENCED DATA PROVISION AGREEMENT
Between the undersigned:
Shelltone Whale Project, association of law 1901.
Represented by its President, Mr Pierre Lavagne de Castellan
And 
The Marine Protected Areas AgencyThe Commission is a national public institution of an administrative nature.
headquartered at
16 quai de la douane, BP 42932
29229 BREST CEDEX 2
Over the past few years, the Agoa Sanctuary has collected a number of data on cetaceans. These data have been acquired by the sanctuary (via various campaigns at sea, the installation of acoustic beacons and the census of opportunistic data...) but also by local actors (associations, research departments, private groups...).
A more detailed study of these data made it possible to identify feeding, resting and socialization areas for several species of marine mammals. In order to obtain more robust results, the Agency is asking the Shelltone Whale Project to enhance its data and knowledge on the subject. This project will be carried out as part of a master's internship starting in January.
This information, assembled in data banks, is then analysed and stored at the centre of the marine protected areas. These observations will eventually provide a visual overview of the state of play in the part of the sanctuary where the Shelltone Whale Project operates, the leeward coast of Guadeloupe, from Deshaies to Basse Terre.
The Agoa Sanctuary is a marine protected area dedicated to marine mammals in the French West Indies.
The objective of the Agoa Sanctuary is to ensure a favourable conservation status for marine mammals by protecting them and their habitats from the direct or indirect, proven or potential negative impacts of human activities.
The Agoa Sanctuary carries out actions to better understand and protect marine mammals and their habitats while promoting a harmonious cohabitation between human and animal activities.
These actions are in line with the overall objective of the sanctuary and its main principles of action: limitation of negative interactions, limitation of pollution, public knowledge, information and awareness, development of monitoring means, cooperation.
Animals are much more intelligent than we ever thought... Regularly, discoveries are made that enlighten us about their sensitivity, their emotional capacity, their generosity, their solidarity and, dare we say it, their wisdom.
Seven brilliant spirits, with exceptional journeys, take us to this fascinating universe of animal intelligence. Thanks to them, you will discover the incredible powers of whale songs that boost the protein content of the plankton, you will see, with the bonobos, that laughter is not the only thing that makes man laugh. You will understand that you can manage a team by taking inspiration from schools of fish. You'll see that ants invented agriculture long before man...
These examples, and many others, show us that the supremacy of man over animals is pure fiction and that, better still, animals are perhaps the lifeline of humanity through their ability to survive and adapt.
Let's reinvent our relationship with the animal, our survival depends on it!
This book is available here :  Larousse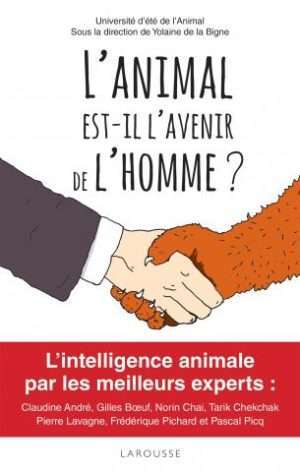 INTERNSHIP AGREEMENT BETWEEN THE UNIVERSITY OF THE WEST INDIES AT PITRE AND THE SHELLTONE WHALE PROJECT
From January 30 to February 24, 2017:
We receive Ms. Océanne Amaya Cipollini, student in L3 life and earth sciences, biology of organisms and ecosystems.
Internship subject: photo identification and acoustic observation of cetaceans, ethology and study of marine mammals in the Agoa sanctuary, from Deshaies to Basse Terre.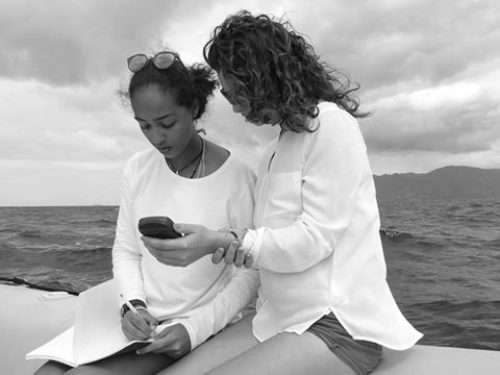 Océanne and Léa at work on the Sec Nord, opposite Baille Argent.
From January 15 to February 9, 2018:
We work with Aurélie Martineau, a student in L3 of BOE (Biology of Organisms and Ecosystems) in Guadeloupe.
Internship subject: Implementation of geo-referenced data of cetaceans of the leeward coast of Guadeloupe, study of the bio-acoustic tool, acoustic identification of species and their behaviour in their environment.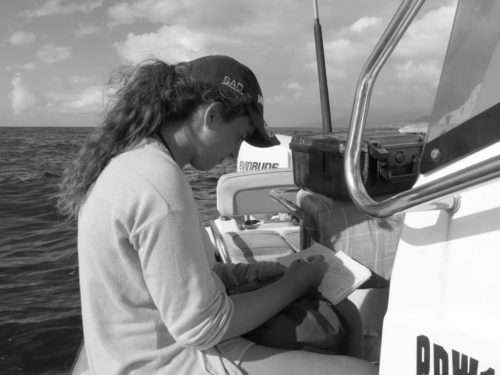 Aurelie at work in the Agoa shrine.
LECTURES ON BOARD THE AMERICAN UNIVERSITY SHIP OCEAN STAR
Regularly, the university ship Ocean Star anchors in Deshaies, the Seamester organization schedules, at each passage, a conference on the Shelltone Whale Project research presented to American marine biology students by Pierre Lavagne de Castellan.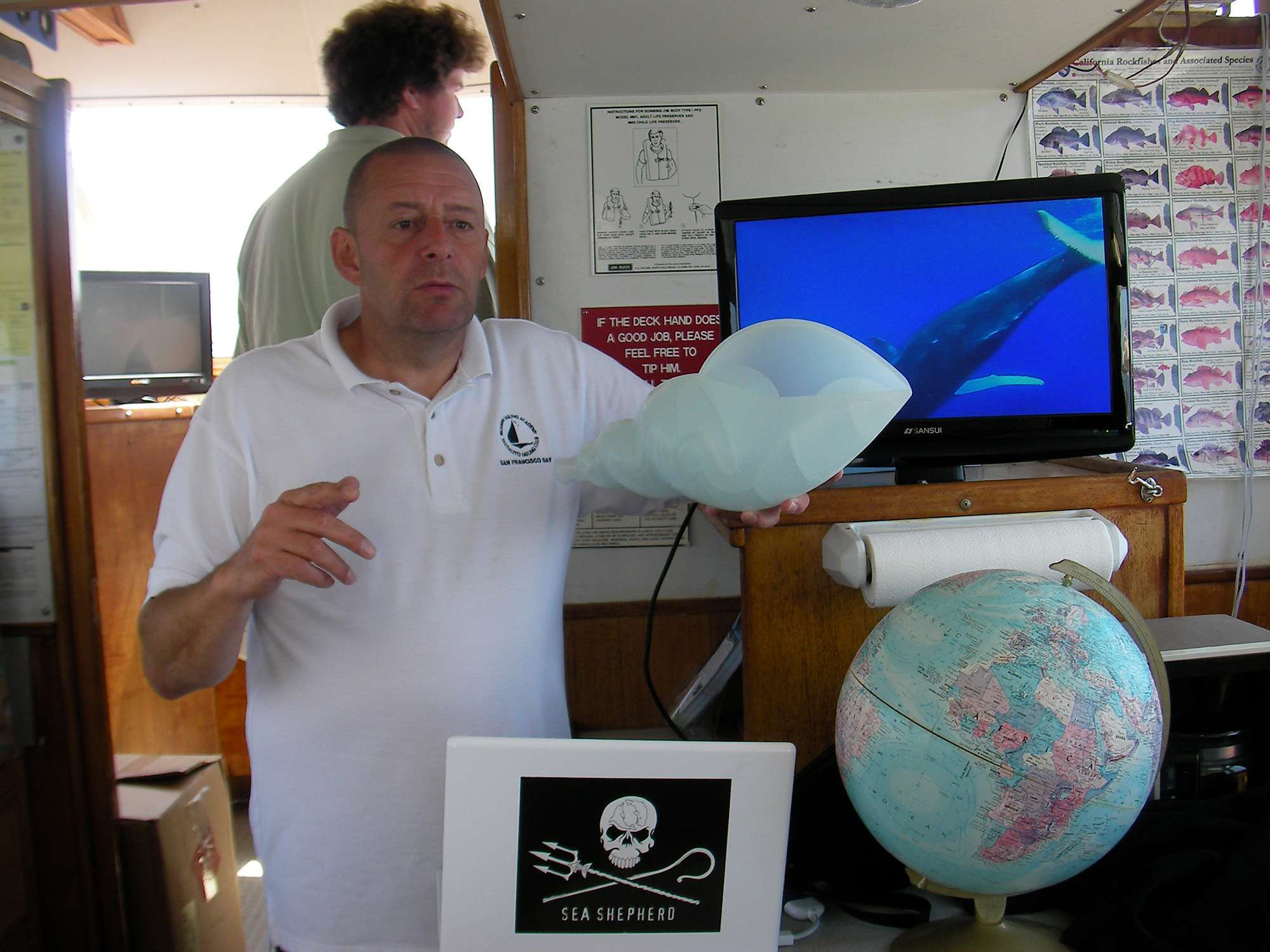 TESTIMONY OF HEATHER HARDING, MARINE BIOLOGIST, MAUI, MAWAII.
Hello, Pierre,
Your legacy still lives on here in Maui. At the last Whaledreamer meeting I had the Shelltone you gave me and I told your story. People who hadn't heard about it were fascinated and inspired.
I don't know if you realize how inspiring this is for people.
The act of creating something, putting one's heart, soul and passion into it without expecting anything in return is in itself a powerful act.
The whales seem to encourage this kind of attitude on our part.
We may not know why we do what we do, but we may believe there is a reason. It is so important that we do these kinds of things more and more, to help balance and heal this world that is sick of the actions of people driven by greed and selfishness, in that your example has value.
I like the Shelltone you gave me. Thank you very much, I cherish it and with it I tell your story to all the people I meet on my whale watching trips, to the students in my classes and at Whaledreamers meetings.
I hope you know how valuable your project is to so many people.
Heather Harding. Marine biologist. Maui - Hawaii - USA