Dolphin and whale watching on Tenerife in the Canaries.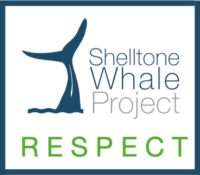 Embark on an unforgettable experience aboard the Esiel, an environmentally-friendly hybrid vesselrenowned for being the island's quietest boat. Dive into the magnificent waters of Tenerife's west coast, designated whaling heritage site in 2021and discover fascinating wildlife. Prepare to be amazed, as you find yourself in one of the world's top destinations for dolphin and whale watching in Tenerife.
Our approach to dolphin and whale watching in Tenerife is based on absolute respect for these wonderful marine creatures. With our expertise and in-depth knowledge of the region, we are committed to providing respectful and ethical whale watching experiences.
Thanks to our small group size, limited to a maximum of 8 people, you'll enjoy an intimate and privileged atmosphere, allowing total immersion in the world of Tenerife's dolphins and whales. Aboard the Esiel, equipped with a hydrophone and 360-degree camera, you'll be able to enjoy the best views and most memorable impressions of these majestic creatures.
Tenerife's waters are home to incredible marine biodiversity, with more than 20 different species of whales and dolphinsSome are resident, others just passing through. Short-finned pilot whales and bottlenose dolphins are frequently seen on our excursions, but every day brings unique encounters, with the chance to discover up to six different species. With an impressive sighting rate of 99.9%, we are committed to providing you with an exceptional dolphin and whale watching experience in Tenerife.
Our respectful approach to low-noise sailing, combined with our hydrophone and 360-degree camera technology, ensures that you will be immersed in a truly special atmosphere during this excursion. Our experienced skippers and passionate biologists will be on hand to provide in-depth information about these incredible marine mammals.
In addition to dolphin and whale watching, you'll also have the opportunity to enjoy a picturesque walk along the magnificent coastline of Los Acantilados de Los Gigantes.
Book your dolphin and whale watching experience in Tenerife now and be captivated by the beauty and majesty of these extraordinary marine creatures.
TIMETABLES & MISCELLANEOUS INFO
Our excursions depart at 9.30am, 12.30pm and 3.30pm, offering flexibility to suit your schedule.
We welcome you at pontoon 1 in Puerto Deportivo Los Gigantes, ideally located on Tenerife's picturesque west coast. There, you'll board the Esiel, ready to embark on an incredible adventure lasting around 2.5 hours.
The tour includes water, organic refreshments and snacks from local gourmet suppliers and fresh fruit.
RATES
Adults aged 13 and over : 85 €
Children ages 2 to 12 : 75 € (free admission for children under 2)
BOOK YOUR TENERIFE SAILING TRIP
1 - Click on the date of your choice
2 - Confirm the number of adults and children. The resident rate applies only to permanent residents of the island.
3 - Payment is made online by credit card.
4 - You will immediately receive your boarding ticket by e-mail.
PLEASE NOTE: All tours require a minimum occupancy equivalent to 4 adults to be confirmed. If this is the case for your tour, we will contact you in advance to suggest other options.

FREQUENTLY ASKED QUESTIONS
Haven't found the answer to your question? Don't hesitate to contact us by e-mail on this page CONTACT.
THE CREW THAT ACCOMPANIES YOU AT SEA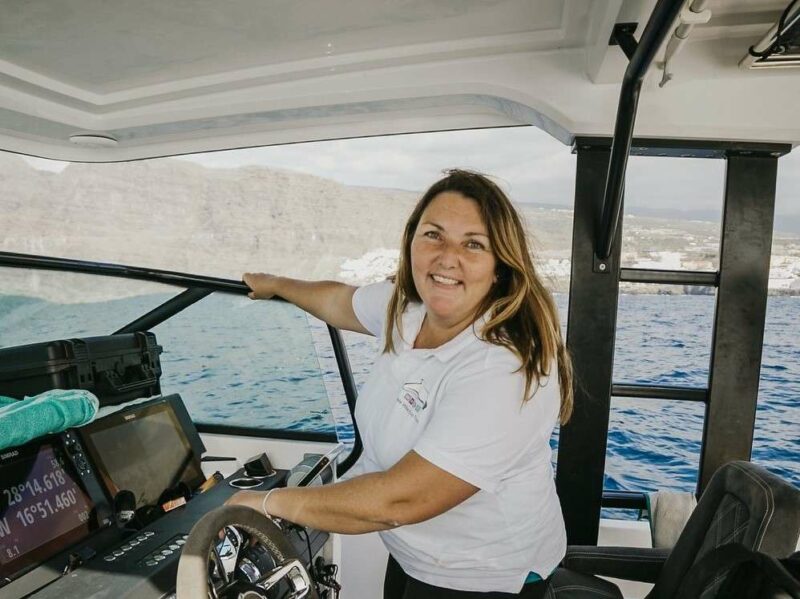 Mercedes Reyes. Founder, researcher, guide, captain.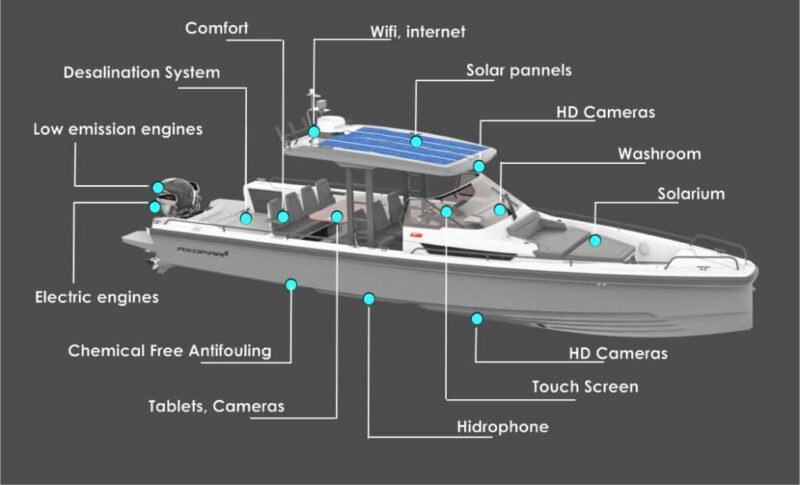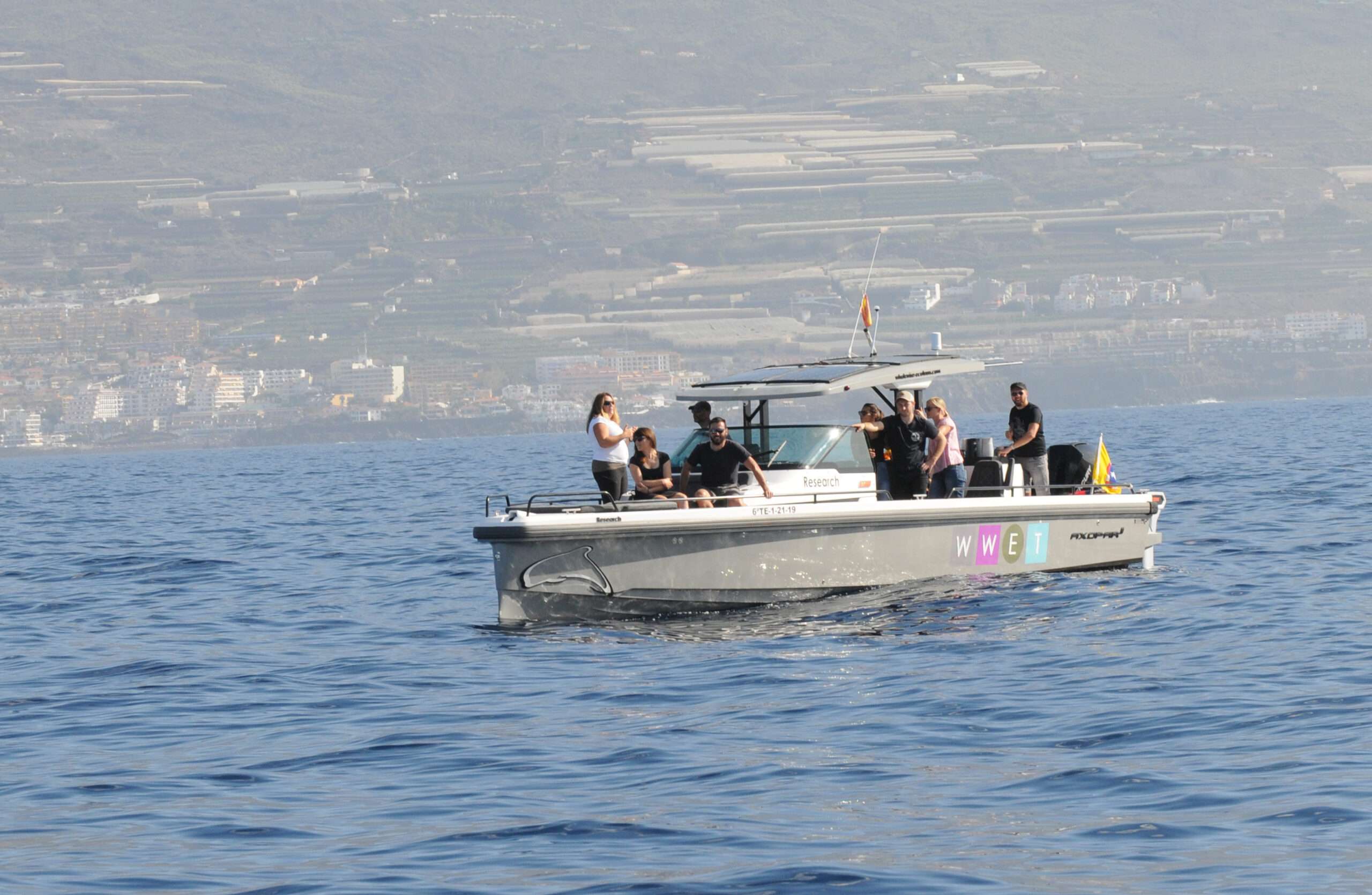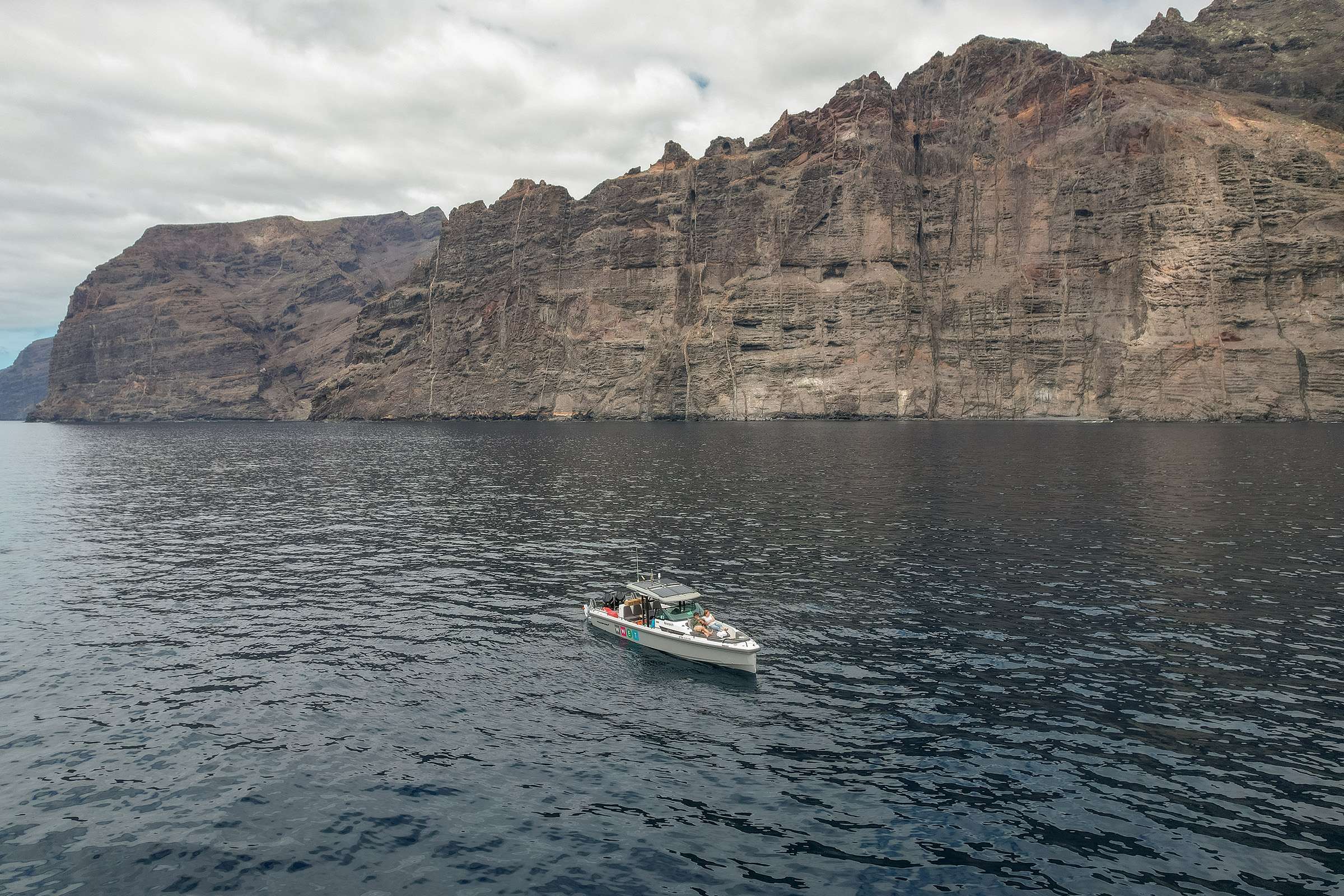 PHOTOS TAKEN FROM THE BOAT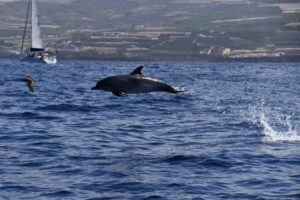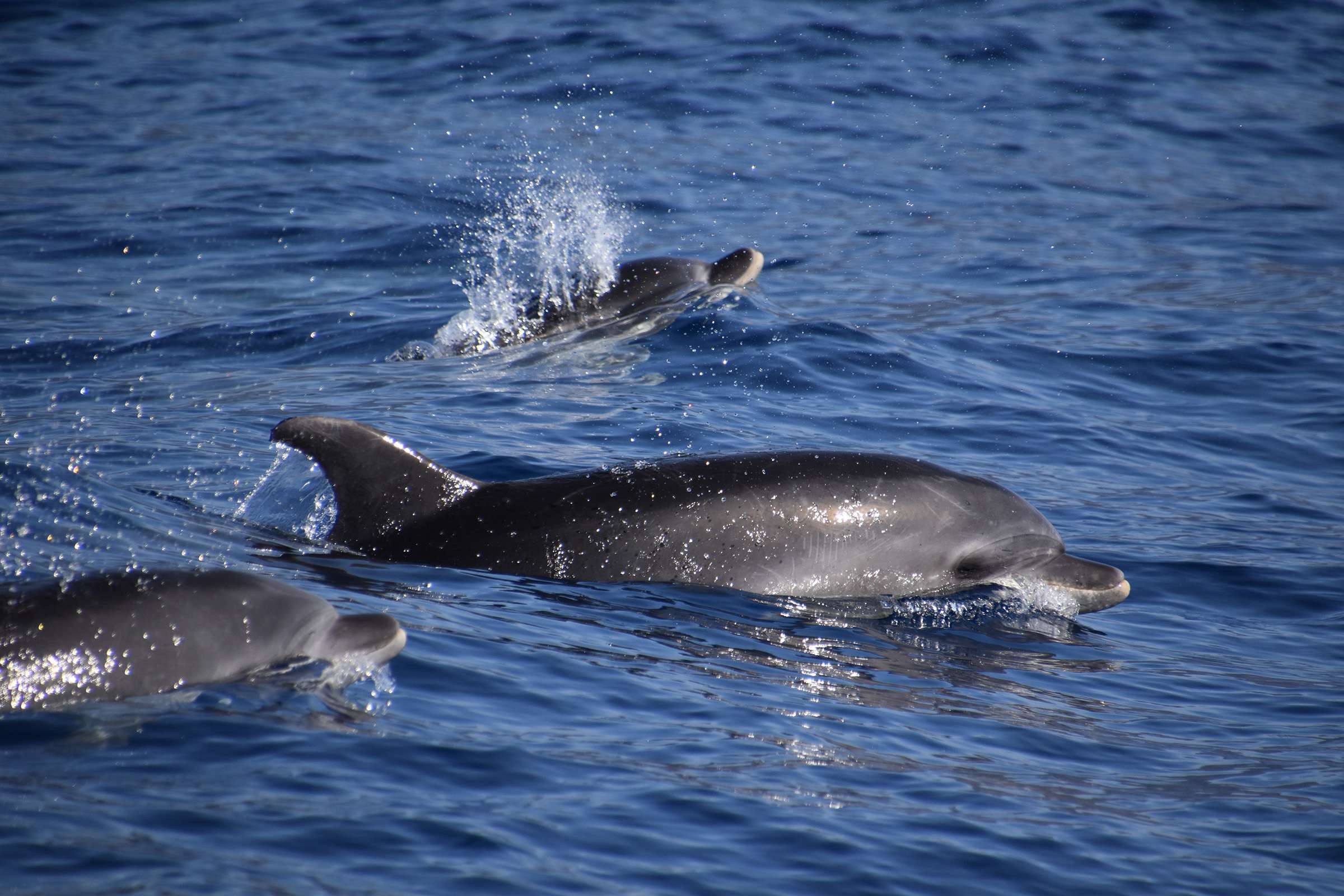 A group of dolphins in a very playful mood!