Dolphin and whale watching from Biarritz, Basque Country.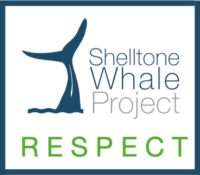 Observation of cetaceans, whales, dolphins and sperm whales from Bayonne, Basque CountryIn a small group, with a maximum of 9 passengers. A more intimatesofter, in conscienceshare the experience!
From April to November, we go out to sea on the Basque-Landes coastone of the most beautiful places in the world for thecetacean, dolphin and whale watching, of which there are around twenty species. The Gouf of Capbreton where we are sailing is a  An underwater canyon that provides all the nutrients necessary for the development of marine fauna. That's why there are so many cetaceans here, and why it's such a popular spot for birth for the dolphins.
We're going out day-to-dayin the morning at 9am. We were at sea for around 4 hours.
Departure is from Quai Pedros in Bayonne, opposite the Town Hall, at the foot of the ramparts, 50 metres from the Place Charles de Gaulle car park.
We are not tourism professionalsWe welcome you on board to share our passion and experience.
Our association under the law of 1901, recognised as being of general interest for its scientific research on cetaceans and its environmental actions in the marine environment, has enabled us to develop our respectful approach techniques.
Our guide Franklinformed by Pierre Lavagne de Castellan will take you to meet the cetaceans off the coast of Brittany. Biarritz, on the Gouf de Capretonusing Shelltone Whale Project. You will then benefit from our experience, both to put all the chances on your side for watching cetaceansif we are certain that we can do so in the future. respect that is due to them.
We do not guarantee the presence of animals during our tripsThis is impossible. Of course we do our best to find them, but if you think you can't handle your frustration in case we don't observe any, then you'd better not come with us to our mission.
Your participation in our sea trips helps to finance our research in inter-species communication. We only take on board people who are in a good mood. Watch the animals we are currently seeing by clicking on the button below.
Participation in the costs of a half-day sea trip:
Book your sea outing in Biarritz, Basque Country
Our cetacean-watching trips along the Basco-Landaise coast resume at the beginning of April 2023.
Thanks to you, our knowledge of the cetaceans in the different 'spots' where we work has greatly improved.
We look forward to resuming our missions and sharing these magical encounters with you this spring!
The Shelltone Whale Project Biarritz Team

Payment by credit card 100% secured on this site.
FREQUENTLY ASKED QUESTIONS
Haven't found the answer to your question? Don't hesitate to contact us by e-mail on this page CONTACT.
THE CREW THAT ACCOMPANIES YOU AT SEA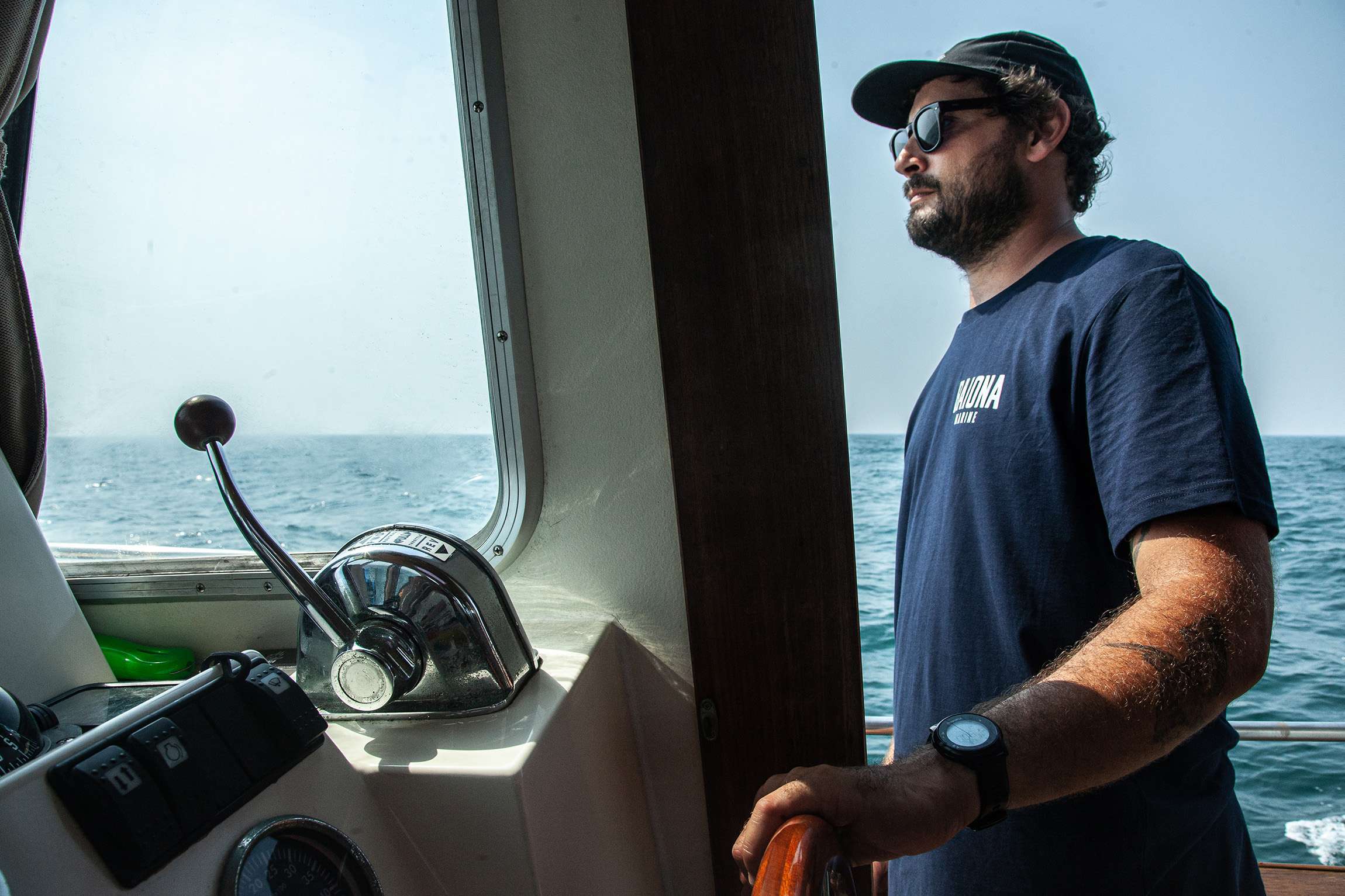 Franklin, a Basque-Breton captain, has always let himself be carried along by the ocean. His grandfather passed on to him his deep passion for the sea, and he was already sailing alongside him before he was even old enough to remember.
After becoming a sailor, the sea took him to the four corners of the world, where he experienced some of his greatest adventures. From Ireland to the Caribbean, he cut his teeth on all kinds of ships.
His knowledge of and respect for cetaceans and his encounter with the Shelltone Whale Project have led him to become involved in their study and protection, at home in the Basque Country.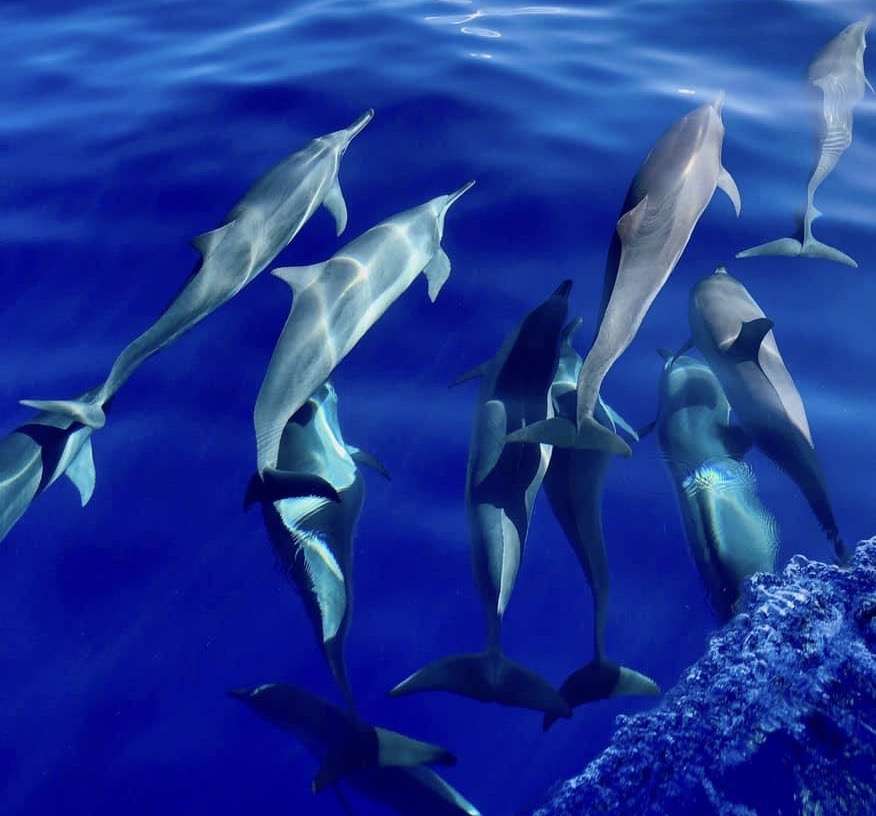 The dolphins of Biarritz in the Basque Country love to play with the bow of the boat, so we just have to adapt our speed to their rhythm.
Welcome aboard our boat, typical of the Atlantic coast, spacious and comfortable, very seaworthy, it allows you to approach the cetaceans of the Gouf de Capbreton opposite Biarritz in the Basque Country gently and respectfully.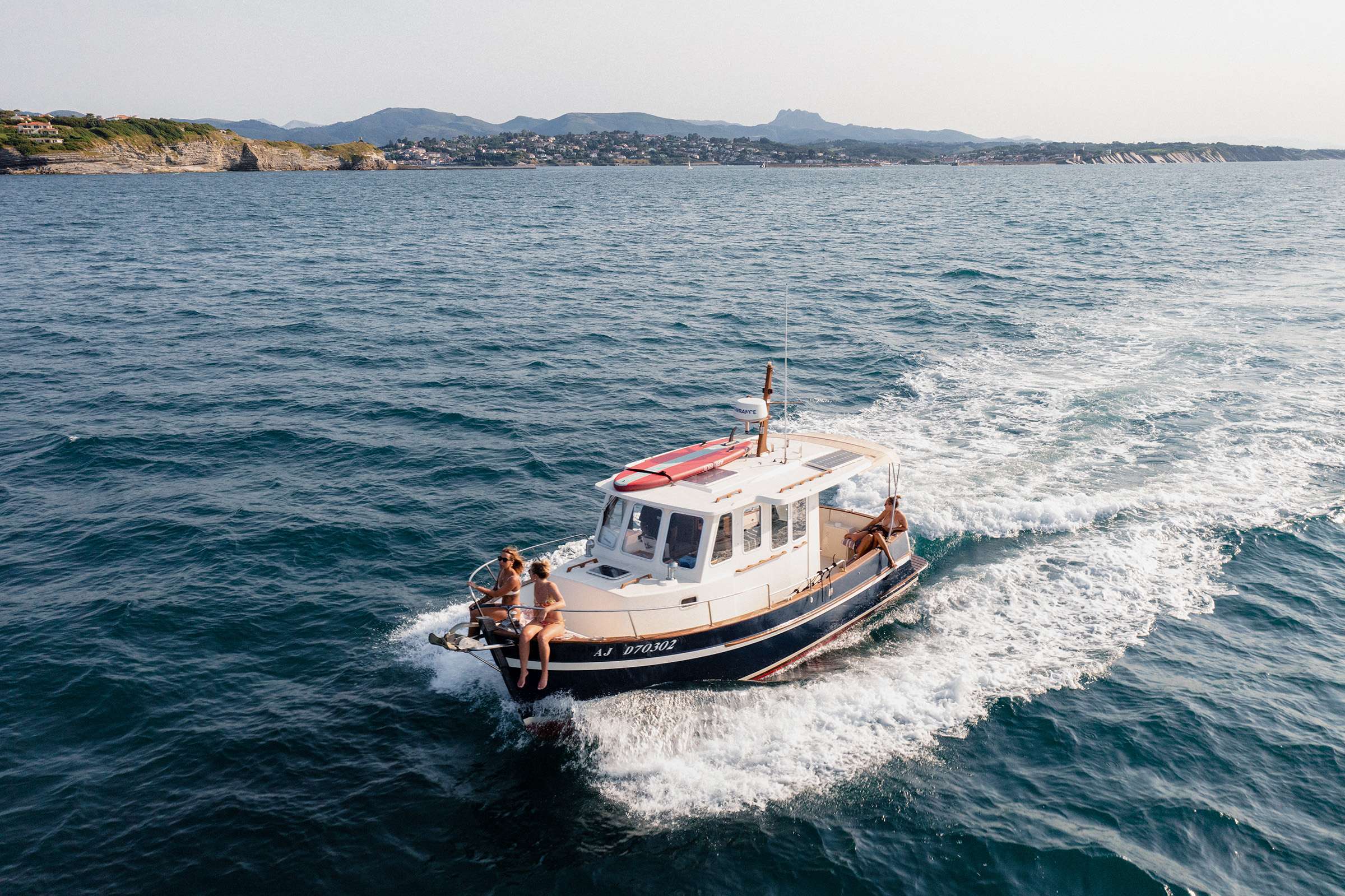 Our captain, Franklin, at work in Bali. To understand cetaceans, you have to understand and share their element.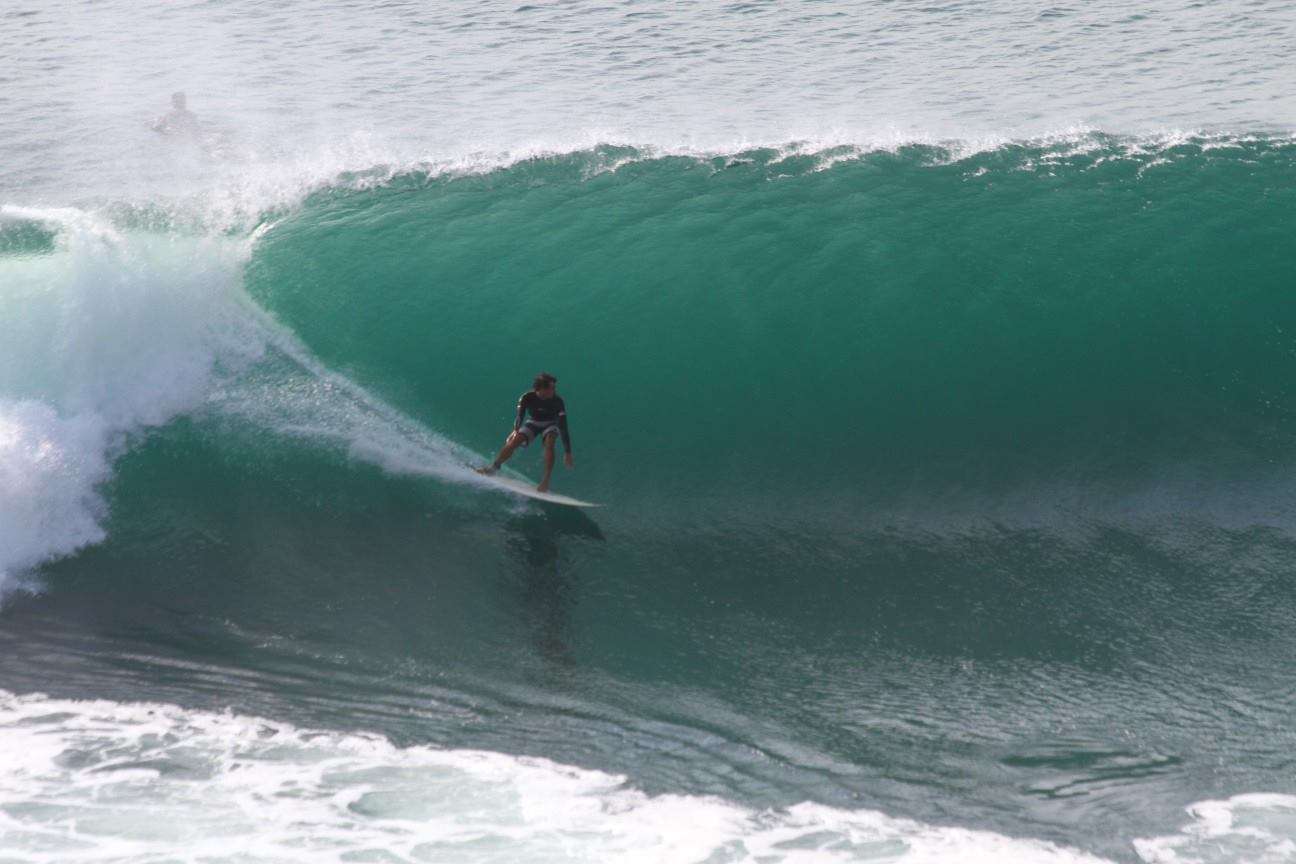 Dolphins, sperm whales and pilot whales all come to swim in the Gouf de Capbreton, in front of our base in Biarritz where we sail.
The Shelltone Whale Project has set up a cetacean approach protocol, which is applied on every outing among the whales, dolphins and sperm whales of the Gouf de Capbreton in Biarritz.
Our observation protocol is governed by simple principles:
Our daily trips out to sea to carry out our research have enabled us to establish a climate of trust with the local people over time. whales, sperm whales and dolphins in Biarritz who alone decide whether to interact with humans in a calm, serene atmosphere.

Every time we go out, we use our hydrophone (underwater microphone) to decipher the sounds we hear in the sea: whale songs, sperm whale codas, whistling dolphins and pilot whales, and so on. Biarritz. These sounds, heard live, allow us to decide on the orientation of the boat to give ourselves the best chance of observing the animals.

A unique experience, a scientific, ecological and educational approach, based on the principles of non-intrusion, mutual respect for the different cultures, and the respect of the environment. dolphins, sperm whales and whales of Biarritz.
PHOTOS TAKEN FROM THE BOAT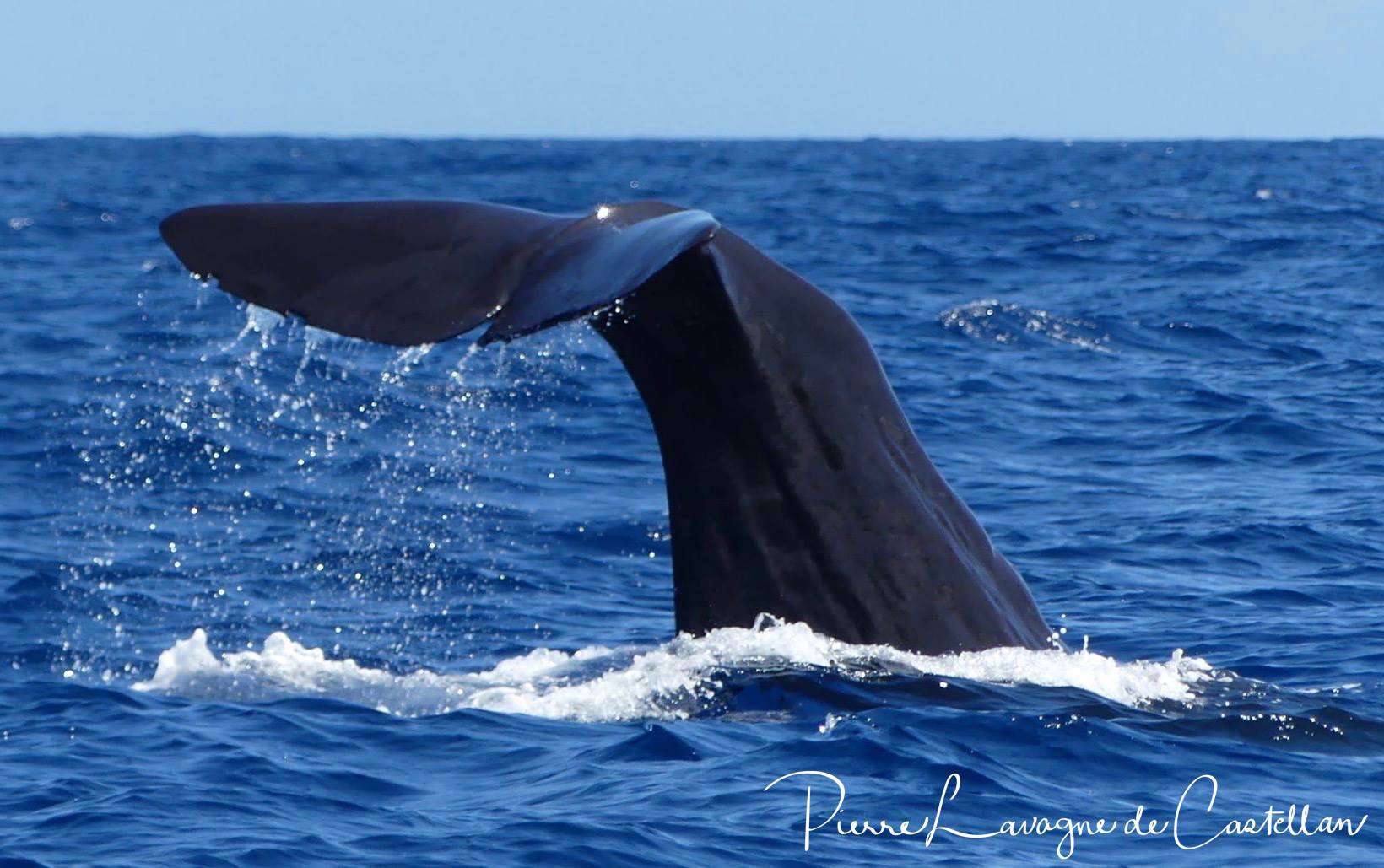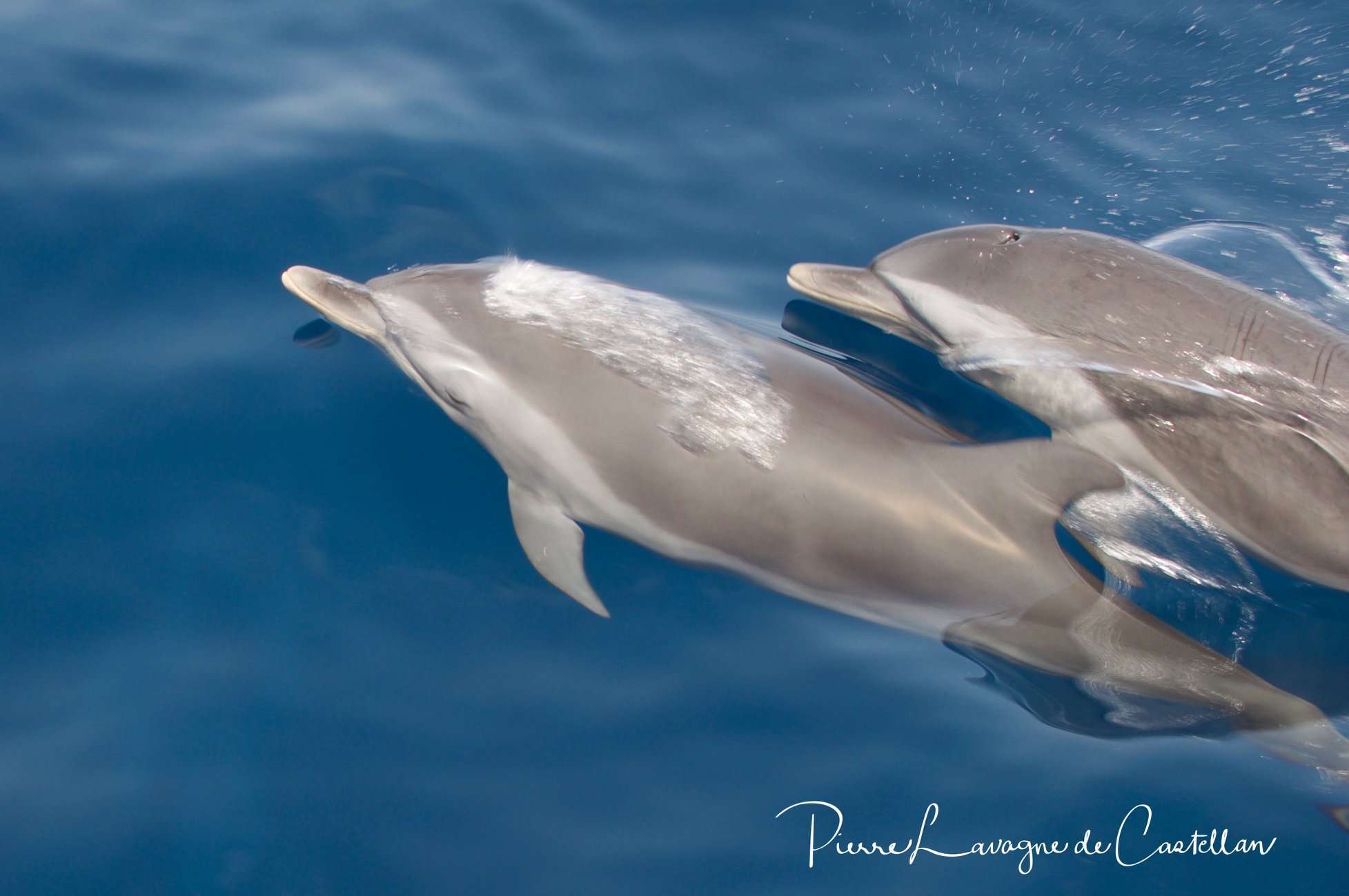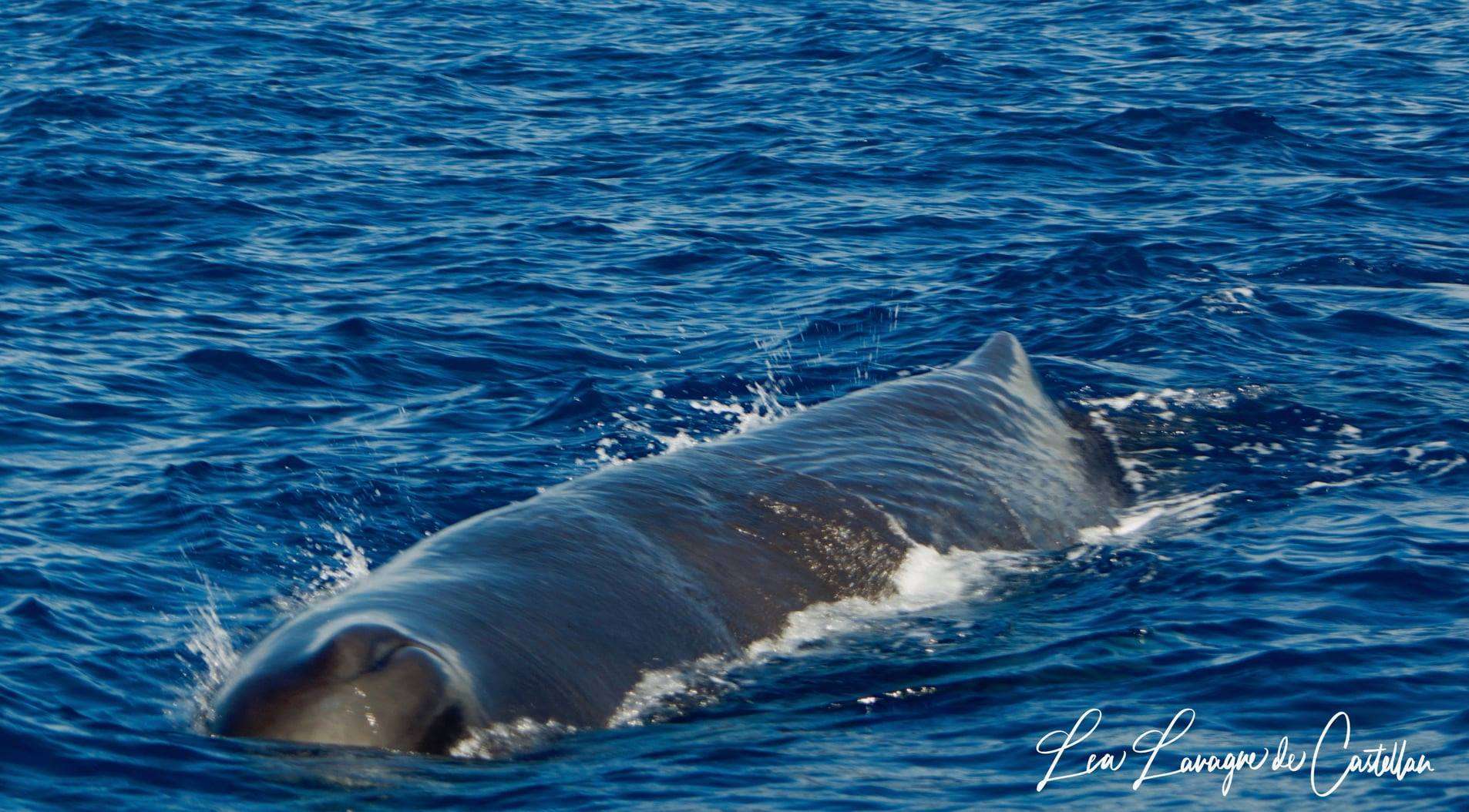 A sperm whale, just before it goes into the depths to feed...
PHOTOS TAKEN FROM THE BOAT
A dolphin in... free form.