WHALE AND DOLPHIN WATCHING IN CADAQUES, COSTA BRAVA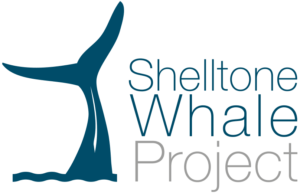 Dolphin, sperm whale and whale watching in Cadaqués, Catalonia, in small groups (8 passengers max).
A more intimate, gentle, conscious approach, share the experience!
All year round, off the coast of Cadaqués, Costa Brava, we meet cetaceans, sperm whales, fin whales, pilot whales, Risso's dolphins, common bottlenose dolphins, striped dolphins, beaked whales and minke whales and sometimes orcas, among others...
There are many species of marine mammals that live off the coast of the Cap de Creus Natural Park, in Cadaqués, where we conduct our research on cetacean communication.
We go out every day at 10am from Cadaqués, the trip lasts about 3h30.
We are not tourism professionalswe are researchers, we welcome you on board to share our experience.
We invite you to participate in our research, to discover how we use our acoustic equipment to search for cetaceans, to listen to them, to understand them... 
We do not guarantee the presence of animals during our tripsIt's impossible. Of course we do our best to find them, but if you think you can't handle your frustration in case we don't observe any, then you'd better not accompany us on our mission.
We are an association under the law of 1901, recognized as being of general interest for its scientific research on cetaceans and its environmental actions in the marine environment.
We are setting up a georeferenced database and acoustics of all cetaceans encountered. Your participation in our sea trips helps to finance our research. Observe the animals we are currently seeing by clicking on the button below.
RATES
Participation in the costs of the sea trip :  

65 € 
BOOK YOUR SEA TRIP TO CADAQUES, CATALONIA
1 - Fill in the form below.
2 - We will confirm quickly our availability according to your wishes.
3 - We will send you a request for payment by email. The payment is made online either with Paypal or by credit card, without creating a Paypal account.
THE CREW THAT ACCOMPANIES YOU AT SEA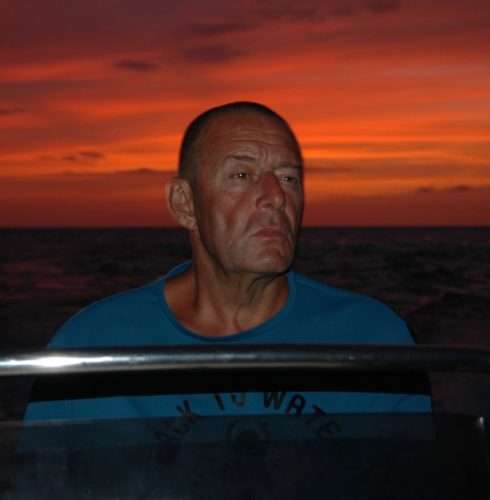 Your guide: Pierre Lavagne de Castellan, marine bio-acoustician, research director of the Shelltone Whale Project.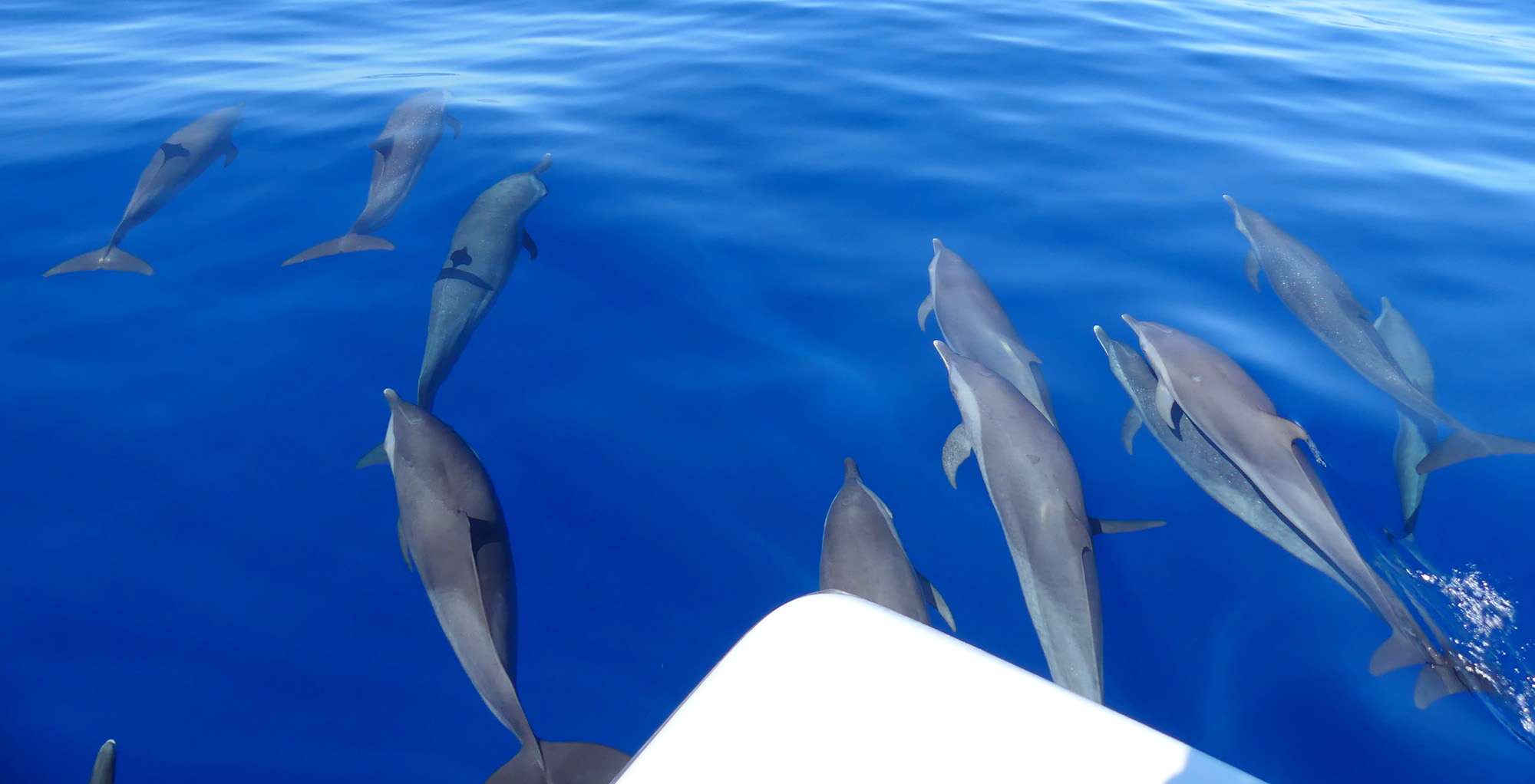 Dolphins often come near the boat and play with us...
Welcome aboard our boat. It offers a beautiful proximity with the animals and an excellent acoustic quality, to enjoy the whales' song. And you will never be crowded on our boat 🙂.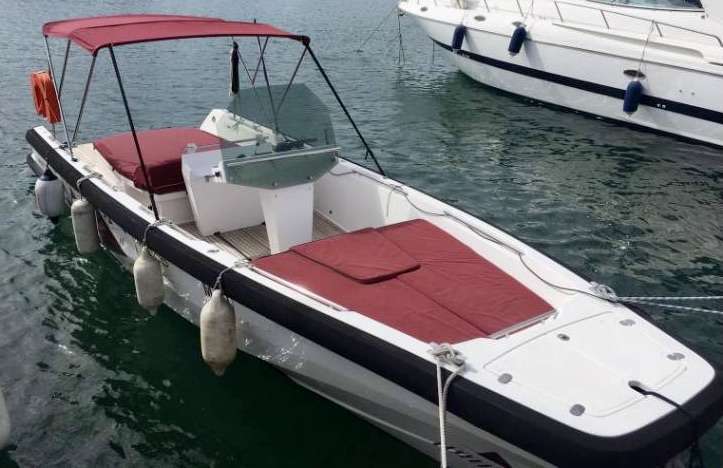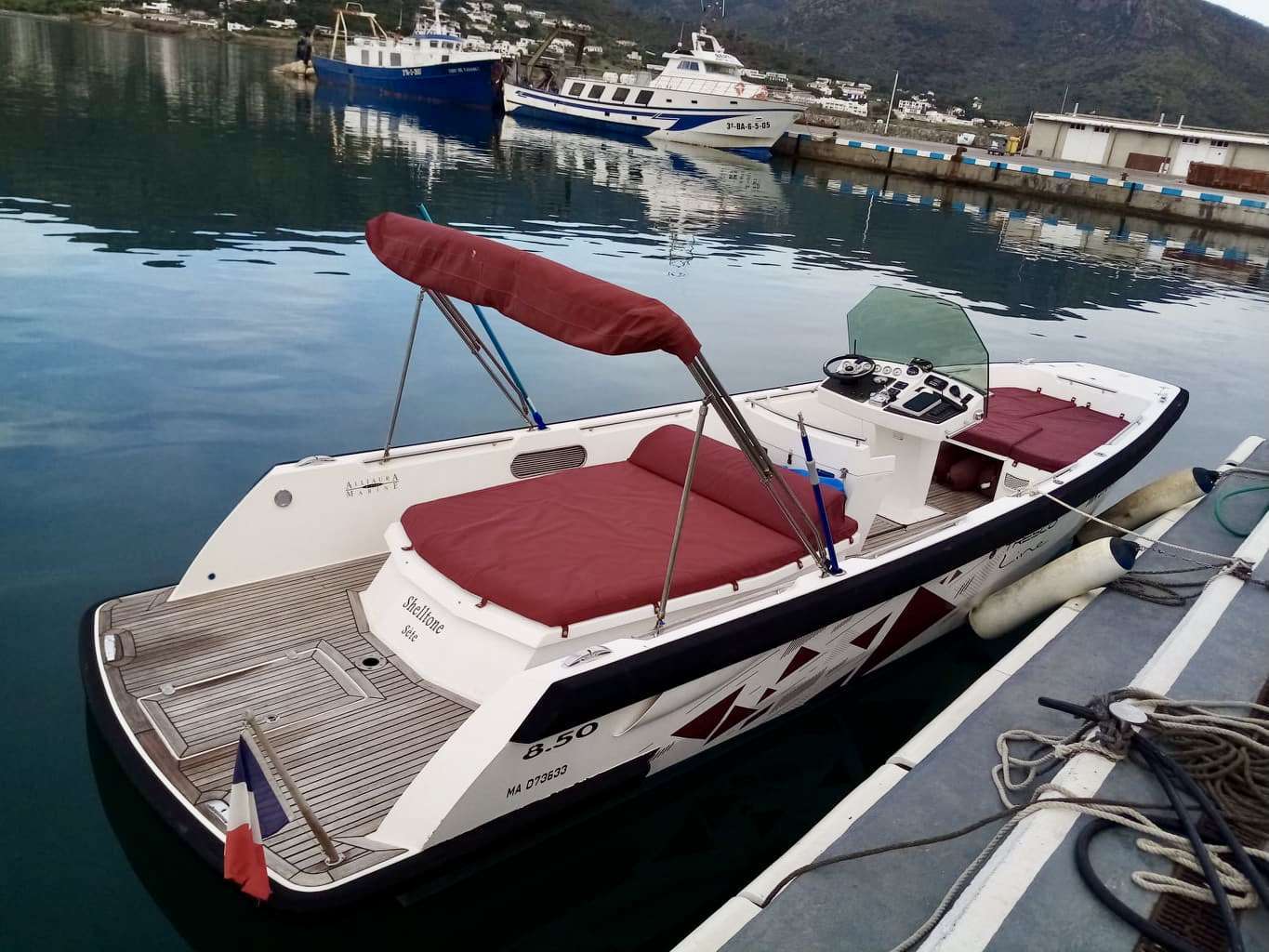 A spacious and comfortable boat so that the 8 passengers (maximum) can closely observe the animals.
The Shelltone Whale Project has implemented a cetacean approach protocol, which is applied on each sea trip among sperm whales, fin whales, pilot whales, Risso's dolphins, bottlenose dolphins, striped dolphins, beaked whales and minke whales.
Our observation protocol is governed by simple principles:
Our daily sea trips, to conduct our research, have allowed us to establish a climate of trust with cetaceans, who alone decide whether to interact with humans, in a calm, serene atmosphere.

On each outing, we use our hydrophone (underwater microphone) and we decipher the sounds heard in the sea, whale songs, sperm whale codas, dolphin whistles and pilot whales off Cadaqués. These sounds heard live, allow us to decide the orientation of the boat to give us the best chance to observe the animals.

A unique experience, a scientific, ecological, pedagogical approach, based on principles of non-intrusion and mutual respect for dolphins, sperm whales and whales off the Costa Brava.
PHOTOS TAKEN FROM THE BOAT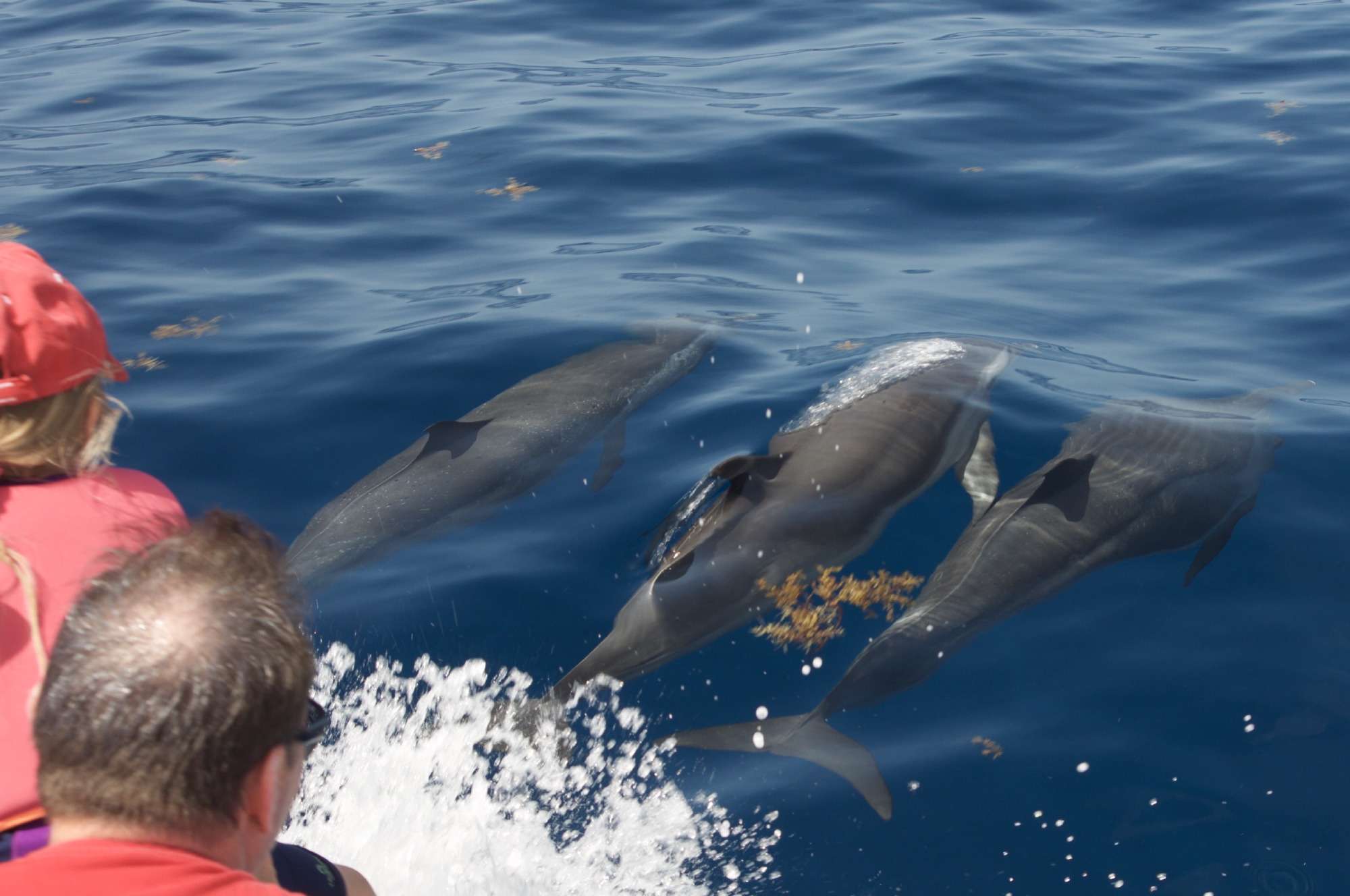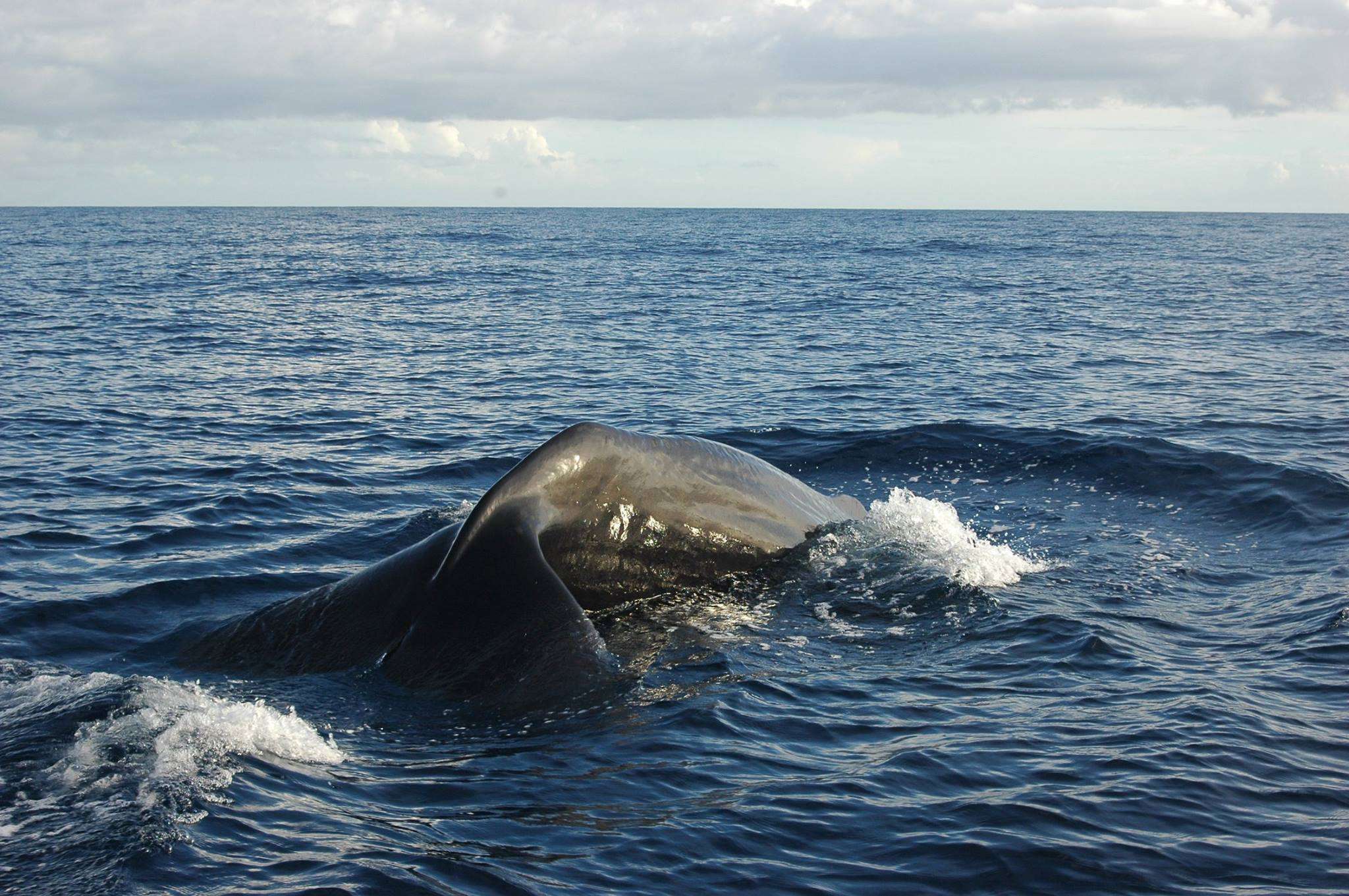 A sperm whale, just before it goes into the depths to feed...
PHOTOS TAKEN FROM THE BOAT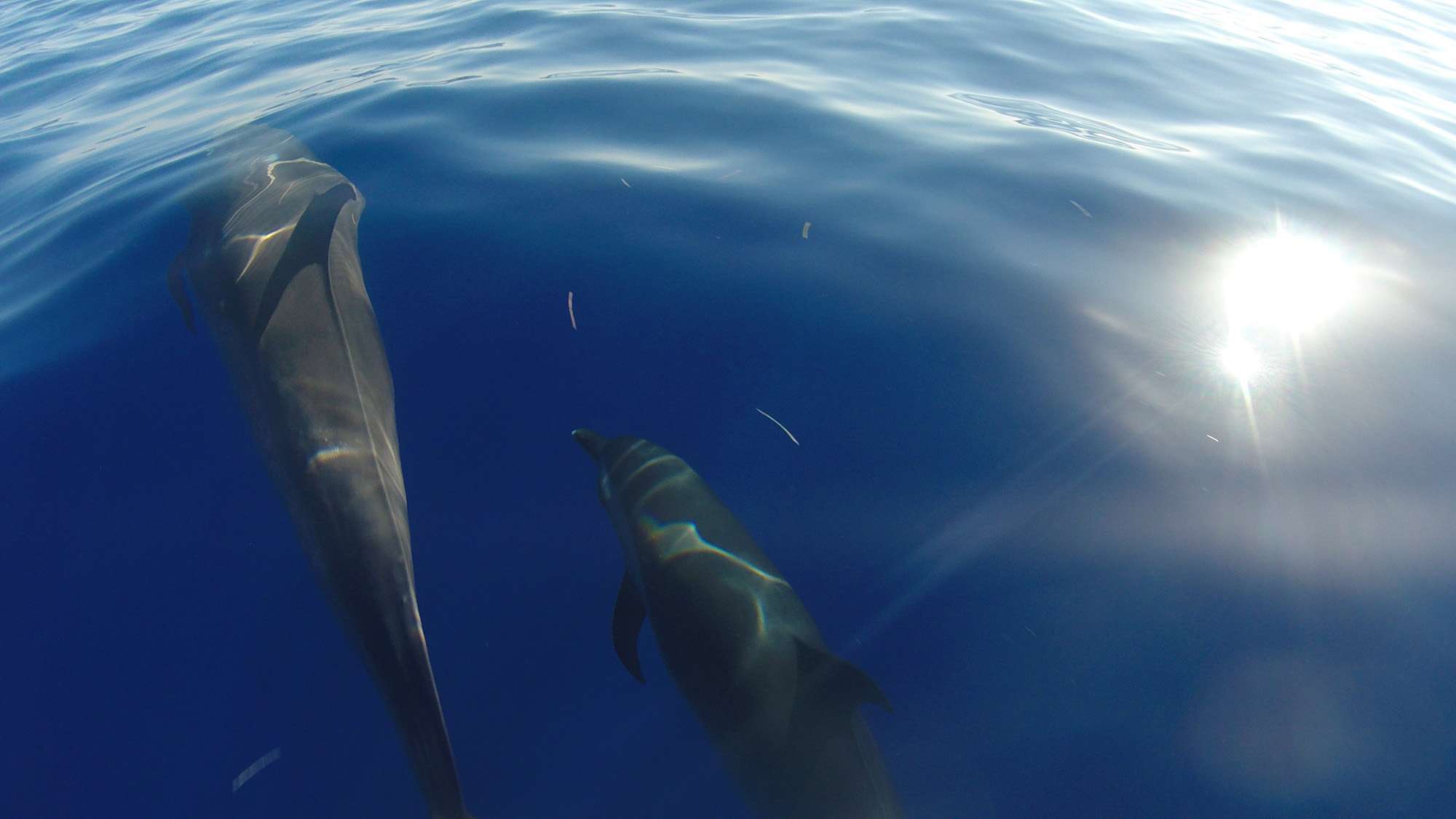 A group of dolphins swimming peacefully off the coast of Cadaqués, Costa Brava.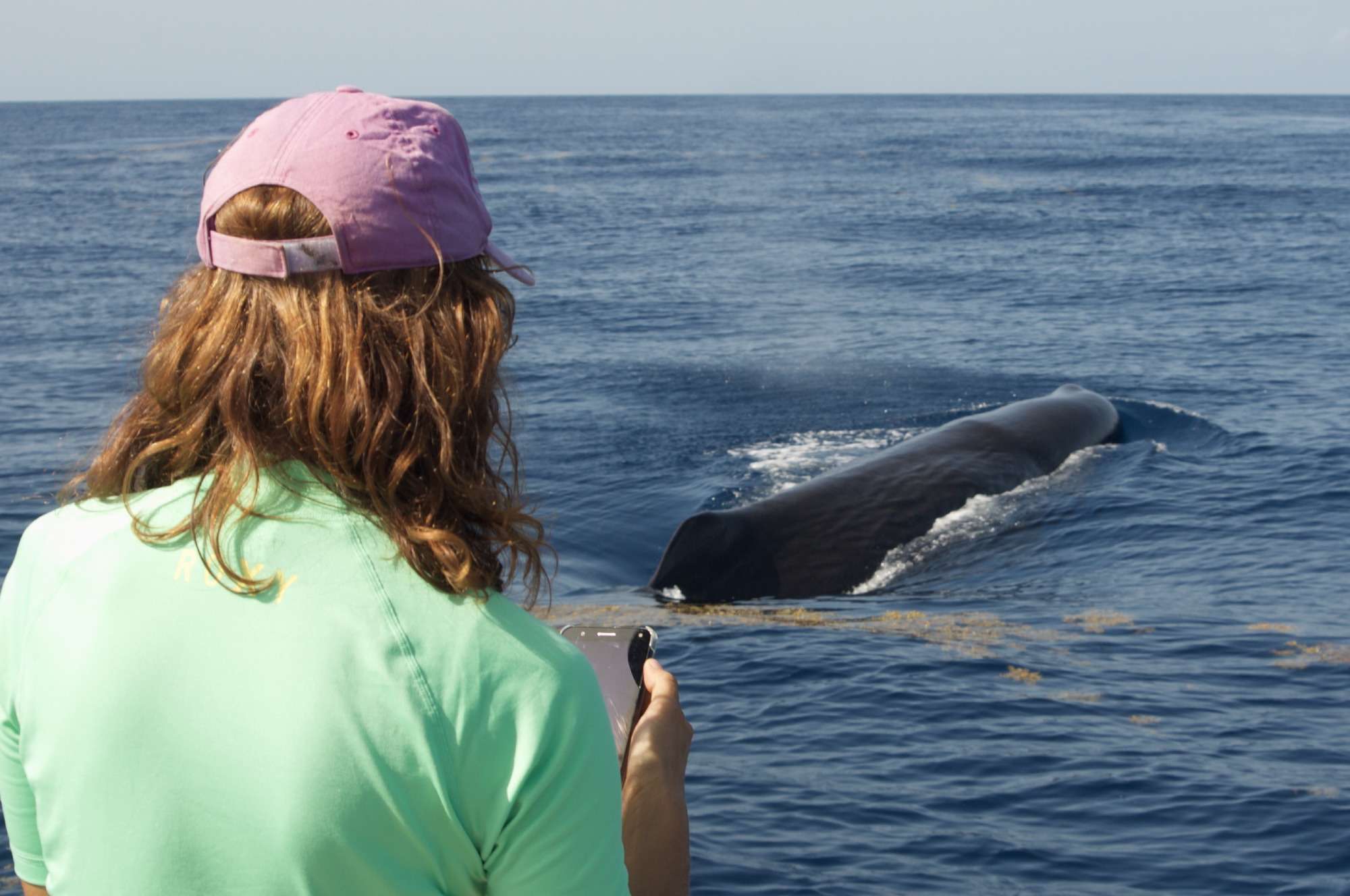 A sperm whale swims calmly around our boat...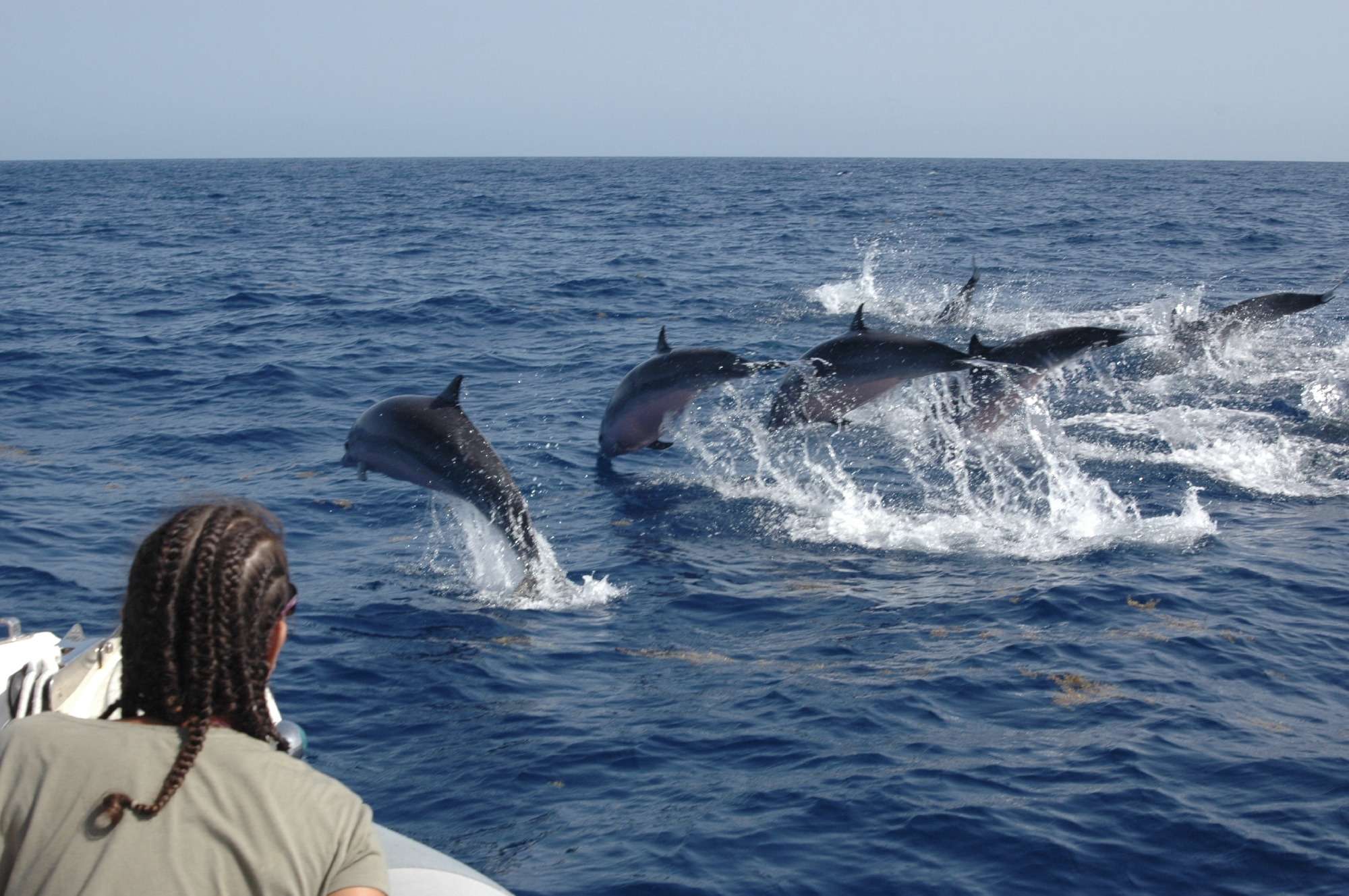 A group of dolphins in a playful mood!